Miyabi Aizawa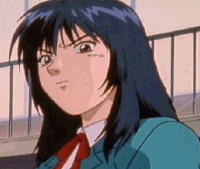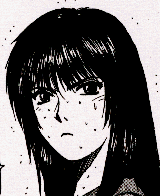 First appearance: Manga>Volume 3-Lesson 17, Anime>Volume 1-Lesson 4.
-'Leader' of one of the 'groups' of the class (Aizawa, Shirai, and Iijima) until certain events take place... The other group (Aizawa, Kanzaki, and Nomura) is pretty much defunct-existing when the three were a lot younger.
-Got good grades (manga version)
-Was a member of Holy Forest's Track Team... and was good at it (manga version)
-Member of MANY CLUBS (manga version)
-Is 16 by the time Volume 17 comes around in the manga.
-Hair color was black at the start of the anime/manga (and returns that way in the manga given certain events in Volume 23). In the manga, it turned into 'Rei Ayanami' blue in Volume 14-Lesson 110. It turned blonde in Volume 22-Lesson 180. Wow.

She really hates teachers and her parents. I think she was content in sitting back and watching Kikuchi (doing his things with the computer) and Kanzaki (for the time that she actually WENT to school) do her dirty work. If you think about it, there has to be SOME reason why she endorses the hating of teachers/started in the first place. In the anime, it's what happened to her best friend that set her off-along with actions from teacher Saito that were supposed to have happened but never did (Volume 10). In the manga, it's what happened involving a teacher (Volume 23) and a student formerly in Class 4 (Volume 23). I mean it's unusual to just do this stuff for the fun of it. I'm sure we'll learn about it soon enough! Although she's evil... it's not at the level of Kikuchi or Kanzaki (maybe even combined?). She was forced to take matter into her own hands to keep the 'pact' going when everyone started to go over to Onizuka's side (the first time was when she used Tomoko). 'Pact' is it? I sometimes thought Aizawa as a virus... spreading out... infecting others... but eventually to die out... Some would say that, but some would say that the concept of friendship and loyalty was there (everyone acting like jerks to the teachers due to the fact that they WERE all that close to each other)... though misdirected and misguided.

After the event at the pagaent, Miyabi really started to get pissed off at Onizuka, because of the things he did for Tomoko-which led Aizawa to feel some humilation in front of everyone.

After a good portion of the class has 'converted,' (which included 'last chance' Kanzaki), Aizawa was forced to take matters in her own hands again (esp. not after getting 'picked on' by Kanzaki)... and of course she wasn't alone in doing so.

Now Miyabi attempts to do things-her own way again. But you must keep in mind that she did most of the observing (for the most part, but there was at least one exception)... and that most of the work was done by the others (i.e. Kikuchi, Kanzaki, Murai). Do you honestly think that she, Shirai, and Iijima are that good to START with (remember that their plan to get Onizuka using Tomoko backfired)? It is said that you get better with experience... generally.

To her credit, Aizawa is persistent... and she will pull out many stops to try to rid Holy Forest of Onizuka. This is more apparent when the story picks up in the manga (after Okinawa)... with the return of a Mayu Wakui...

Did I mention that her problems aren't just limited to Holy Forest? Aizawa has some issues at home as well... (though never resolved by the end of the anime version). Some hints/information about that can be found with the information about her parents at the cafeteria.

Kinda makes you wonder how and when Onizuka finally gets the message to her... The message taught (and the means) is different (for the most part) in three versions of GTO (the anime, manga, and live action drama).

>>>>>Aizawa's Conversion to 'Onizuka-ism' in the anime doesn't occur until the very last episode (Lesson 43). Manga-wise, you could probably say that Aizawa 'joined' Onizuka's cause/side in the very last moments of Volume 23, or the opening events of 24. By then, he finally gets through to her.

>>Potential Love Interest: Refer to the Trip to Okinawa to start...