Kikuchi's Impact in the Series~A sypnosis/history if you will...
Part 3: Manga Volume 9-11/ Anime Volume 7-8


Aizawa wanted Onizuka out of Holy Forest academy so badly. After a break in the 'MAIN' storyline (in both the anime and the manga), she decided to take matters into her own hands. Forced to do the deed by herself (with the help of Shirai and Iijima), Aizawa unleashed her own devious plot to get Onizuka. Part of Aizawa acting this way was to show Kanzaki that she wasn't some bratty/snotty 'Princess.' But of course the members of 'Onizuka-ism' are ready to act...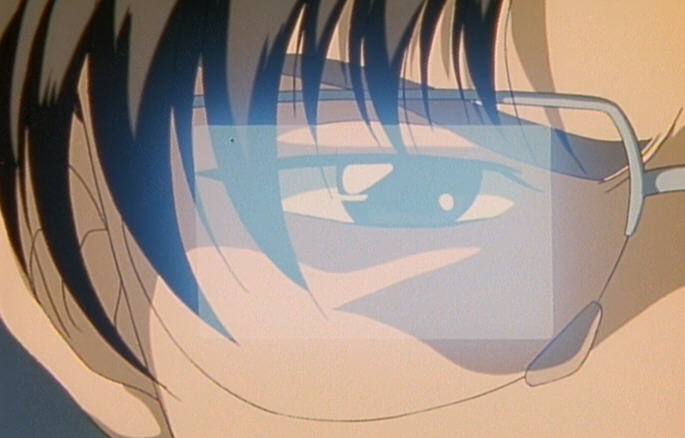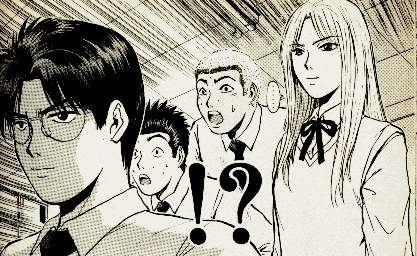 Aizawa used the dirt she collected on Mr. Sakurai (Sakurada) in order to set up what might be the perfect crime. This next scheme involved the money raised to take the Third Year students out on their annual field trip. Miyabi also used Fujiyoshi in her plan. Her willingness to use her own classmates/ former 'comrades' (again) shows her dark side. While Kikuchi and Kanzaki were experts in ridding teachers in the past, Aizawa's attempts were weaker in comparision and were destined doomed to fail (quickly)-in part due to inexperience. Although she kicked it up a notch, the risks/mistakes associated with such a great and intense plan increased exponentially as well. If it was handled properly, Kikuchi and company might not have been able to save Onizuka's butt, but luckily it WASN'T. In the manga, it was revealed that it was part of Aizawa's plan to try to lure Kikuchi away from Onizuka's side (with feelings of disgust, contempt, and betrayal), but that didn't work. It was indeed smart of Aizawa to take away part of the brains of 'Team Onizuka,' because Kikuchi is a major contributer. Unforunately for Aizawa, Kikuchi's loyalty remained firm, plus the pieces of the puzzle is starting to fall into place... Kikuchi went into action after the pictures of Onizuka (blame placed on him for Fujiyoshi's 'disappearance,' spending of all the money, and being drunk and acting horribly around 'schoolgirls') surfaced at the school. Kikuchi was able to use the picture to their ADVANTAGE... being able to reveal/confirm who did it (and proving that you CAN go too far-a.k.a. rubbing it in can come back to hurt you). Yes, Kikuchi did confirm that the pictures were real (upsetting Miss Fuyutsuki in the process in both versions)... which seemed like a 'betrayal,' but this was one of those situations where lying about it wasn't going to do more good than bad.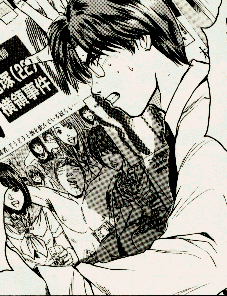 Despite having the proof that Onizuka was set up by Aizawa (in the anime version, Kanzaki had the person in their grasps, in the manga version, posters REVEALING the true identities of the girls were printed up to be distributed), our Great Teacher wouldn't have any of it. Onizuka unleashed his own plot (the promise of the trip to Okinawa)... which just threw him into more of a 'mess' that needed to be solved.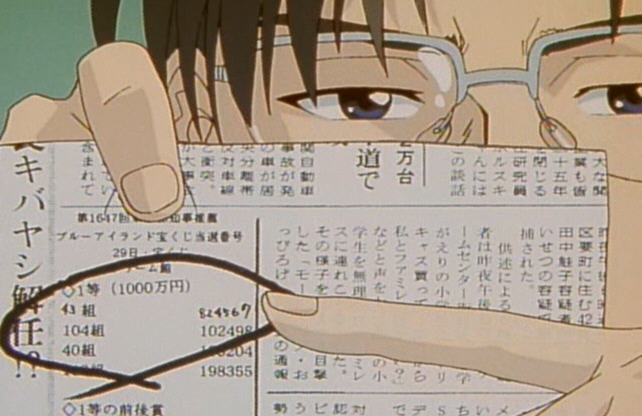 How does one manage to come up with over 8 million yen to take the entire 3rd year class to Okinawa? Luckily for Onizuka that he has several young, couragous, and creative students on his side. Well unfortunately, someone had to notice that Onizuka's lottery ticket wasn't the big winner that Onizuka thought it was. This saved some embrassment and it shifted the focus in the 'right direction.'
[Note the next three events in this 'Fuijyoshi/Aizawa/Okinawa sequence' occured in a different order in the anime and manga versions, what's listed below IS NOT in any particular order:]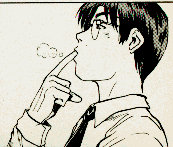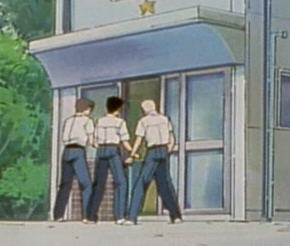 Event #1: Onizuka became pissed off at his cop friend Saejima because of the lottery ticket. Saejima's clever use of words partially attributed to Onizuka thinking he had a big winning ticket (that along with Saejima's slyness/corruptness). Onizuka was more than ready to blow his brains out, but Saejima attempted to 'make things right' by letting our Great Teacher sell pouches of a white substances from a suitcase. Of course at first glance, you'd think it's the illegal white drug... but Kikuchi took a taste test, proving it wasn't heroin or cocaine, but rather simply ordinary flour. (Bad news is that in the anime version, it was Kanzaki that took the taste-in a possible attempt to change the characters' personality/actions slightly-this change just ruins things slightly...) This incident has several implications. On the good side, the 'tasting' prevents Onizuka from doing and getting arrested on drug dealilng (along with proving that Saejima can't be trusted). While he might have made a lot of money doing this, several people might not be too thrilled on getting ripped off... with revenge not too far away. In the manga version, it's known that Kikuchi smokes. It makes you wonder just what ELSE Kikuchi did when NOT in school... What I mean is what was Kikuchi's true intentions of tasting the 'white substance?' Did he KNOW what true cocaine tasted like? Was he genuinely looking out for Onizuka's best interests (again to prove if Saejima was being truthful)? Does he care about his own life if he voluntarily tasted the substance (it wouldn't have been that good if it turned up the substances was cocaine and not flour)? Was he that smart enough in knowing what was real and fake? The manga may reveal something else about Kikuchi's character and of one other in later volumes...
Unfortunately, Onizuka takes Kikuchi's words about 'killing yourself'/'managing death' the wrong way... (the attempted fake accident to scam car insurance thing)
**In the manga, you can see some untranslated conversation next to the bubble which says 'You weasel! Again with the tricks! You want me to air out our brains?' From what I heard from outside sources, I believe that piece of dialogue is Murai asking Kusano (or vice-versa) of how did Kikuchi KNOW it was a drug or not. If this is true, this would mean that this went untranslated in the English version of the GTO manga.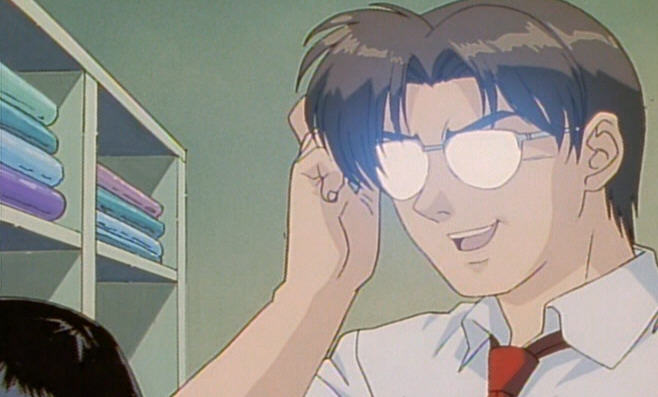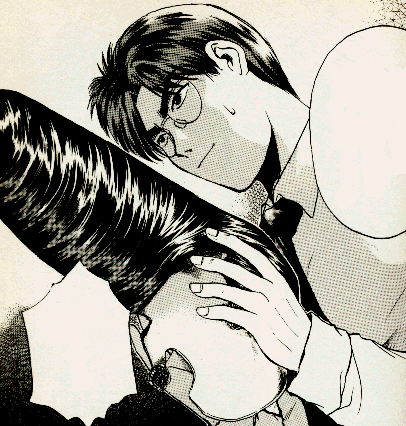 Event #2: Money was still needed... 8 million + yen in less than a week. Kikuchi comes up with not only a brilliant plan, but an illegal/risky one at fact. This plan involved Pachinko. If you don't know what that is, then it's basically the 'love child' of 'Pinball' PLUS the 'Plinko' game from the gameshow 'The Price is Right' PLUS a slot machine. In Japan, Pachinko is really popular... as popular as the arcades. The object of the game is to basically guide a series of metal balls bearing down through a series of lights, bumpers, holes, etc. You win more balls by getting them into certain areas/slots. The point of collecting the balls is to trade them in for prizes/novelties. It is illegal in Japan to play for money, but there are certain locales where you could trade in balls for certain items/papers, and then you can go to a different location (like a certain store at a alley for example) and trade these items for good old yen. In any case, Kikuchi stuck a magnet inside a wig, so that Onizuka could use it to guide the balls to where they 'should be going.' It worked for a while... but Onizuka blew his cover (different ways-anime and manga). Even if he didn't, the numerous boxes of balls Onizuka had stacked up around him would have arosed SOME suspicision in due time...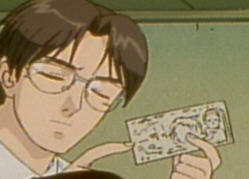 Event #3: And of course, Kikuchi acted as the voice of reason in just why it's not a good idea to counterfeit money... especially when the counterfeit isn't anywhere CLOSE to the original... Getting real cash FAST isn't easy, but Kikuchi does know how to make it in the long term (note the conversations he had with Kanzaki relating to it).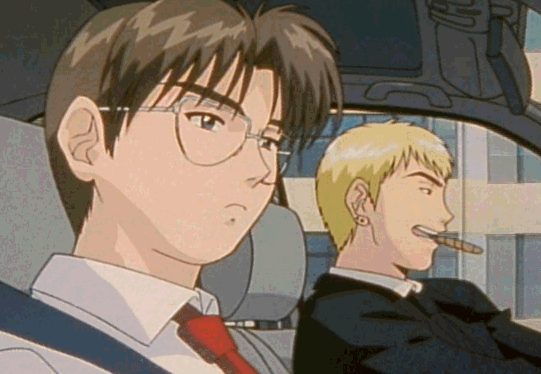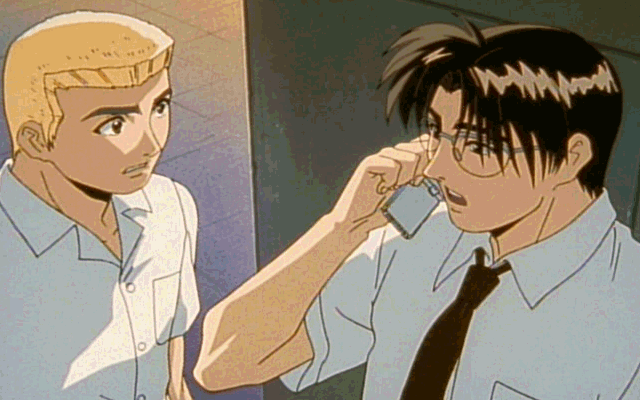 It is a standard 'rule' for most Japanese anime/manga that anything can and WILL happen. Onizuka's indeed a lucky man, somehow managing to get a hold of the keys that will get him out his jam, literally. But the evil forces-that is Aizawa-quickly acted to ruin things again. Ignoring Kanzaki's warning, Aizawa attempted to drive excess nails into Onizuka's coffin. Unfortunately for Aizawa, Kanzaki sought revenge. The revenge inflicted onto Aizawa, Iijima, and Shirai was different in the anime version than the manga (for one reason Japanese television rules/guidelines), but both versions were just as intense and evil. Yes even though Aizawa went to such extremes, she's still a member and friend of Class 3-4... and more importantly a human being. The fact that Aizawa didn't deserve a punishment this severe prompted Kikuchi to get Onizuka to DO SOMETHING. Kanzaki was indeed thinking of Onizuka in the short term, but Kikuchi prevented horrible things (like mental scars) from occuring that would remain in the long run that Kanzaki was willing to 'ignore.' Note that if Kanzaki hadn't resorted to an extreme punishment, then MAYBE Kikuchi would have let it slide by.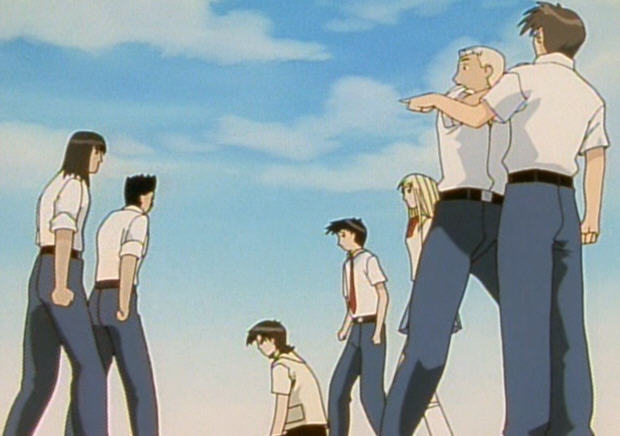 Kikuchi never gave up... even when things got very bleak. Even in the face of defeat, Kikuchi finds something to hold on to... to make a difference. He was the only one to notice Onizuka boarded the wrong boat... meaning that everyone won't have to weep and 'mourn' anymore. IF you thought Kikuchi was cold and emotionless as it relates to Onizuka's departure (the moment before the 'pointing') then you're wrong. Kikuchi did shed a tear or two... but it was because of the mistake Onizuka made that he stopped crying. Now the trip to Okinawa is on... and who knows what can happen there...